I was looking for a different steak recipe to try and came across this one for a Marinated London Broil. I had most of the ingredients on hand so it was easy to make. (I did likely overcook mine, so will try again following the directions more closely. The recipe comes from a site I discovered called https://diethood.com.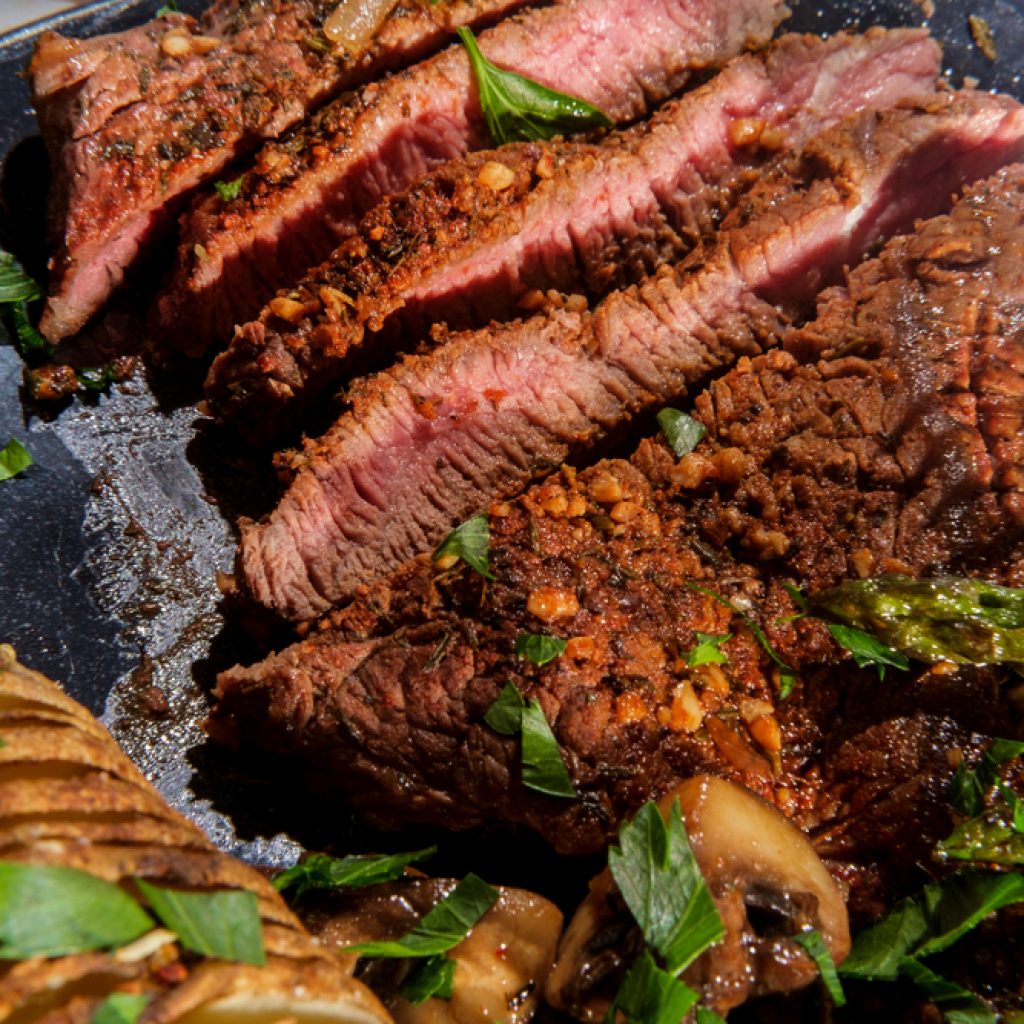 Marinated London Broil
Ingredients
2 pounds flank steak
For the Marinade
1/4 cup olive oil
1/4 cup low-sodium soy sauce
2 tablespoons Worcestershire sauce
2 tablespoons apple cider vinegar
2 tablespoons brown sugar
3 to 4 cloves garlic, minced
1 teaspoon smoked paprika
1/2 teaspoon dried oregano
1/2 teaspoon dried thyme
1/2 teaspoon ground coriander
1/2 teaspoon salt
1/2 teaspoon fresh ground black pepper
Chopped fresh parsley, for garnish
Directions
Place steak in a gallon-sized ziploc bag and set aside.
In a small bowl whisk together olive oil, soy sauce, Worcestershire sauce, apple cider vinegar, brown sugar, minced garlic, paprika, oregano, thyme, coriander, salt, and pepper. IF you're not using low-sodium soy sauce, add less salt; you can always add more later.
Pour the marinade over the steak inside the Ziploc bag; seal the bag and massage the marinade all around the steak. Set aside for 1 hour to marinate, OR refrigerate for up to 8 hours.
Take the steak out of the fridge 20 minutes before you're ready to cook.
Preheat oven to BROIL. If you have a HIGH or LOW Broiler setting, set it on HIGH.
Set a 12-inch cast iron skillet over high heat and heat it up until hot.
Remove steak from the marinade, shake off any excess, and transfer steak to the hot skillet; make sure it sizzles. Cook for 2 minutes; flip and continue to cook for 1 minute, or until just browned.
Transfer the skillet to the oven and broil for 5 minutes; flip the meat over and cook for 4 to 5 more minutes or until internal temperature registers at 125˚F to 130˚F. DO NOT cook it longer than that because the steak will be tough and chewy. Use an instant-read meat thermometer to check for doneness.
Remove skillet from oven and transfer steak to a cutting board; let stand for 8 to 10 minutes before cutting.
Slice thinly and garnish with parsley.
Serve.
Nutritional Details:
Serving: 4 ounces | Calories: 238 kcal | Carbohydrates: 5 g | Protein: 25 g | Fat: 13 g | Saturated Fat: 3 g | Cholesterol: 68 mg | Sodium: 514 mg | Potassium: 457 mg | Fiber: 1 g | Sugar: 4 g | Vitamin A: 132 IU | Vitamin C: 1 mg | Calcium: 40 mg | Iron: 2 mg | Net Carbs: 4 g
For additional tips and suggestions for Lond Broil, check out the recipe link page as they list some great suggestions! https://diethood.com/marinated-london-broil/