This recipe is a nutrition-packed way to get your day going and keep you energized! If you have been doing more clean eating, I bet you have most if not all of these ingredients already on hand.
Breakfast Power Bowl – Serves 4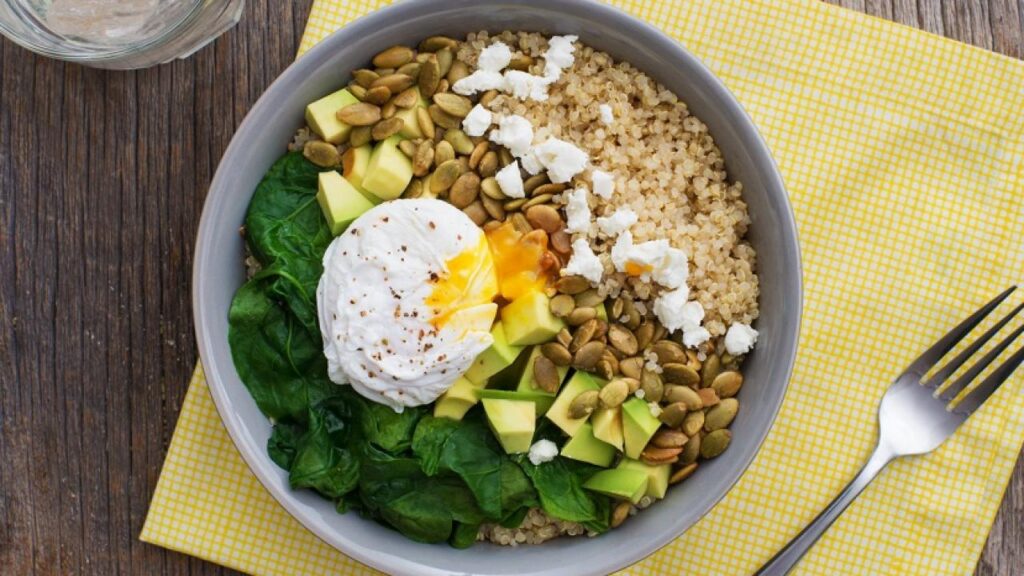 Ingredients:
2 tsp vinegar
4 cold eggs
1/4 cup olive oil, divided
1 clove garlic, minced
6 cups baby spinach
1/2 tsp each salt and pepper, divided
1 cup quinoa, cooked according to package directions
1 tbsp lemon juice
1 ripe avocado, peeled, pitted, and chopped
1/4 cup crumbled goat cheese
2 tbsp toasted pumpkin seeds
Directions:
Fill a saucepan with enough water to come 3 inches up the side of the pan; heat to a gentle simmer. Stir in vinegar. Break the cold egg into a small dish or saucer. Holding the dish just above simmering water, gently slip egg into the water; repeat with the remaining eggs. Cook in barely simmering water for 3 to 5 minutes or until whites are set and yolks are cooked as desired. Remove eggs with a slotted spoon. Drain on a paper towel.
Heat half of the oil in a skillet set over medium heat; cook garlic for about 1 minute or until fragrant. Add spinach; cook for 2 to 3 minutes or until starting to wilt. Season with half each of the salt and pepper.
Toss together quinoa, lemon juice, and remaining olive oil; divide evenly among 4 bowls. Top with cooked spinach, avocado, goat cheese, and pumpkin seeds. Top with poached eggs. Season with remaining salt and pepper.
Tip: Not a fan of goat cheese? You can substitute for the same amount of crumbled feta.
This recipe originated from Eggs.ca which has plenty of recipes using eggs!