Elevate your diet with the tantalizing chicken and tomato-bean salad, an incredible dish that cleverly incorporates nutritious lima beans. Packed with fiber to stabilize blood sugar levels and boasting a generous amount of iron, this recipe delivers 25% of your daily recommended intake per cup, accompanied by 15 grams of protein.
This recipe came from the Diabeticgourmet.com site
Ingredients:
1-1/2 to 2 pounds chicken thighs
1 cup plain Greek yogurt
1 teaspoon fresh ginger, diced
1 teaspoon curry powder
juice of 1 lime
1 cup red cider vinegar
1 cup water
2 teaspoons pickling spices
2 teaspoons plus 1/8 tsp salt, divided
1 tablespoon sugar
1/8 teaspoon crushed red pepper flakes
1/2 teaspoon celery seed
1-1/2 cup lima beans, cooked in water for 4 minutes, then drained and cooled
2 cups diced fresh tomatoes
1 small sweet onion, diced
1/4 cup chopped fresh cilantro
Directions:
Combine yogurt, ginger, curry powder, and lime juice.
Add chicken thighs and turn to coat with yogurt mixture. Allow to marinate in refrigerator 1 to 4 hours.
In a small saucepan, combine vinegar and water; add pickling spices, 1/8 teaspoon salt, sugar, red pepper flakes, and celery seed. Bring to a boil, then lower the heat and simmer for 5 minutes. Remove from heat and cool.
Place lima beans, tomatoes, and onion in the container. Using a fine mesh sieve, pour the warm vinegar mixture through it and into the vegetable mixture. Add cilantro. Cover and chill for at least 1 hour and up to 2 days.
Prepare grill or broiler.
Remove chicken from the marinade, draining excess, and discard the remaining marinade. Season thighs on both sides with the remaining teaspoon of salt.
Place chicken on the grill or under the broiler to sear. Turn over once until well browned, cooking for a total of 6-8 minutes. Continue to cook chicken, turning to avoid burning.
Grill or broil chicken until it reaches an internal temperature of 170F, about another 15 to 20 minutes.
Using a slotted spoon, place about 1/3 cup of salsa on each plate and place a grilled thigh next to the salsa.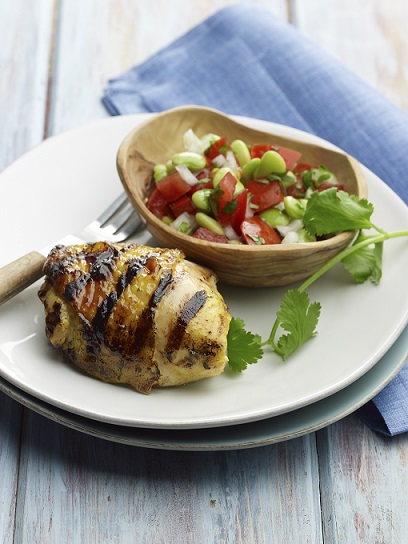 NUTRITIONAL INFORMATION PER SERVING:
Calories: 400
Fat: 19 grams
Saturated Fat: 5 grams
Fiber: 4 grams
Sodium: 471 milligrams
Protein: 33 grams
Carbohydrates: 24 grams
Sugars: 10 grams
Comment below if you make this recipe and let us know what you think!