This side dish goes well with any meat you might also be grilling. Thanks to the Cajun seasoning, the zesty eggplant gets more attention than an ordinary veggie, states the recipe creator, Greg Fontenot from The Woodlands, Texas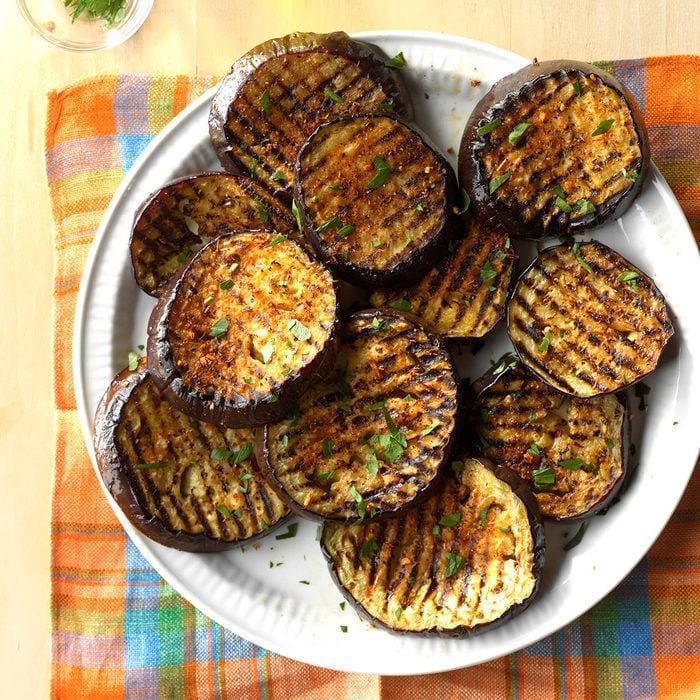 This recipe comes together in little time. Total Time is about 20 minutes
Ingredients
2 small eggplants, cut into 1/2-inch slices
1/4 cup olive oil
2 tablespoons lime juice
3 teaspoons Cajun seasoning
Directions
Brush eggplant slices with oil. Drizzle with lime juice; sprinkle with Cajun seasoning. Let
stand 5 minutes.
Grill eggplant, covered, over medium heat or broil 4 in. from heat until tender, 4-5 minutes
per side.
Nutrition Facts
Yields: 8 servings
1 serving: 88 calories, 7g fat (1g saturated fat), 0 cholesterol, 152mg sodium, 7g
carbohydrate (3g sugars, 4g fiber), 1g protein. Diabetic Exchanges: 1-1/2 fat, 1
vegetable.

Remember to check back weekly for additional recipes and we love to hear when you try one of the recipes we suggest so let us know in the comments!